I'm so honored again to be featured in an online wedding magazine. This is what "Swooned Magazine" wrote:
For Rachel and Morgan, two Californian video game developers who got engaged on a starlit balcony overlooking Venice's Grand Canal, a wedding by the water was a must. "The one 'need' I had was to be married barefoot in the Sand," Rachel said. After scouting out dozens of locations in Southern California, the couple finally found exactly what they were looking for in Laguna Beach's historic Villa Rockledge, a sprawling Mediterranean- and Mission-style estate built into the side of a bluff overlooking the Pacific. "It offered both a secluded oceanfront ceremony site and a grand, eclectic reception space," Rachel explained. After enjoying their "first look" on a meandering stone walkway in the villa's lushly coiffed garden, the couple and their wedding party took a few moments to pose for a relaxed set of portraits, then descended a wooden stairway to a cloistered beach, where a heart-shaped ring of tropical orange flower petals had been arranged on a rocky ledge over a saltwater tide pool. The bride looked effortlessly radiant in a breezy, Grecian-style Vera Wang gown, while the groom sported an apropos off-white suit from Saks. Rachel's favorite color, teal, was chosen for the bridesmaids' knee-grazing taffeta dresses and the man of honor's Scottish kilt.
The lighthearted mood of the day was captured flawlessly by Collin and Anna for Goddard Studios Photography. "Rachel and Morgan's choice to have their wedding at the Villa Rockledge in Laguna Beach was just perfect," Anna said. "The weather was beautiful, and everyone was laid back. A fun time was had by all."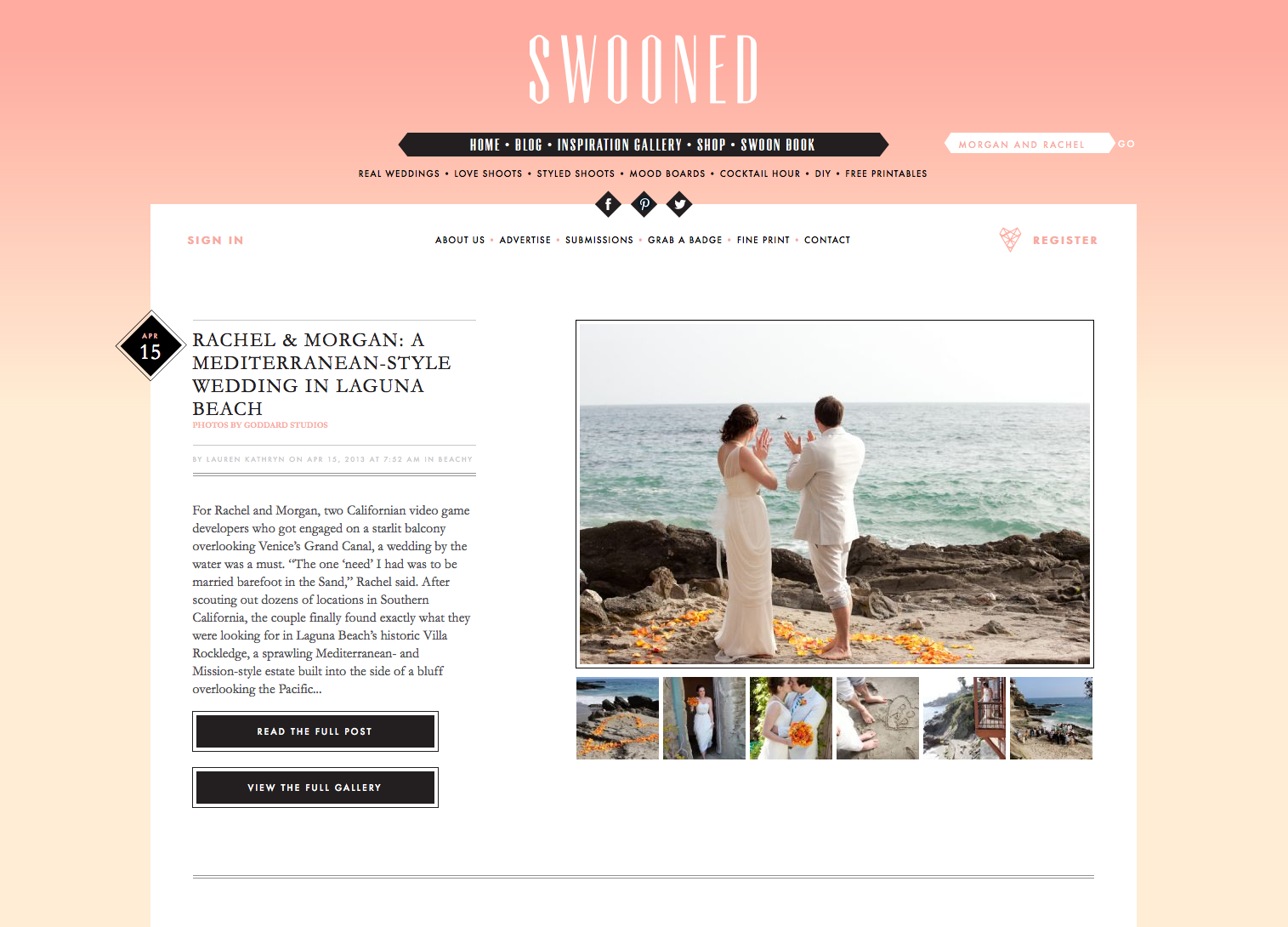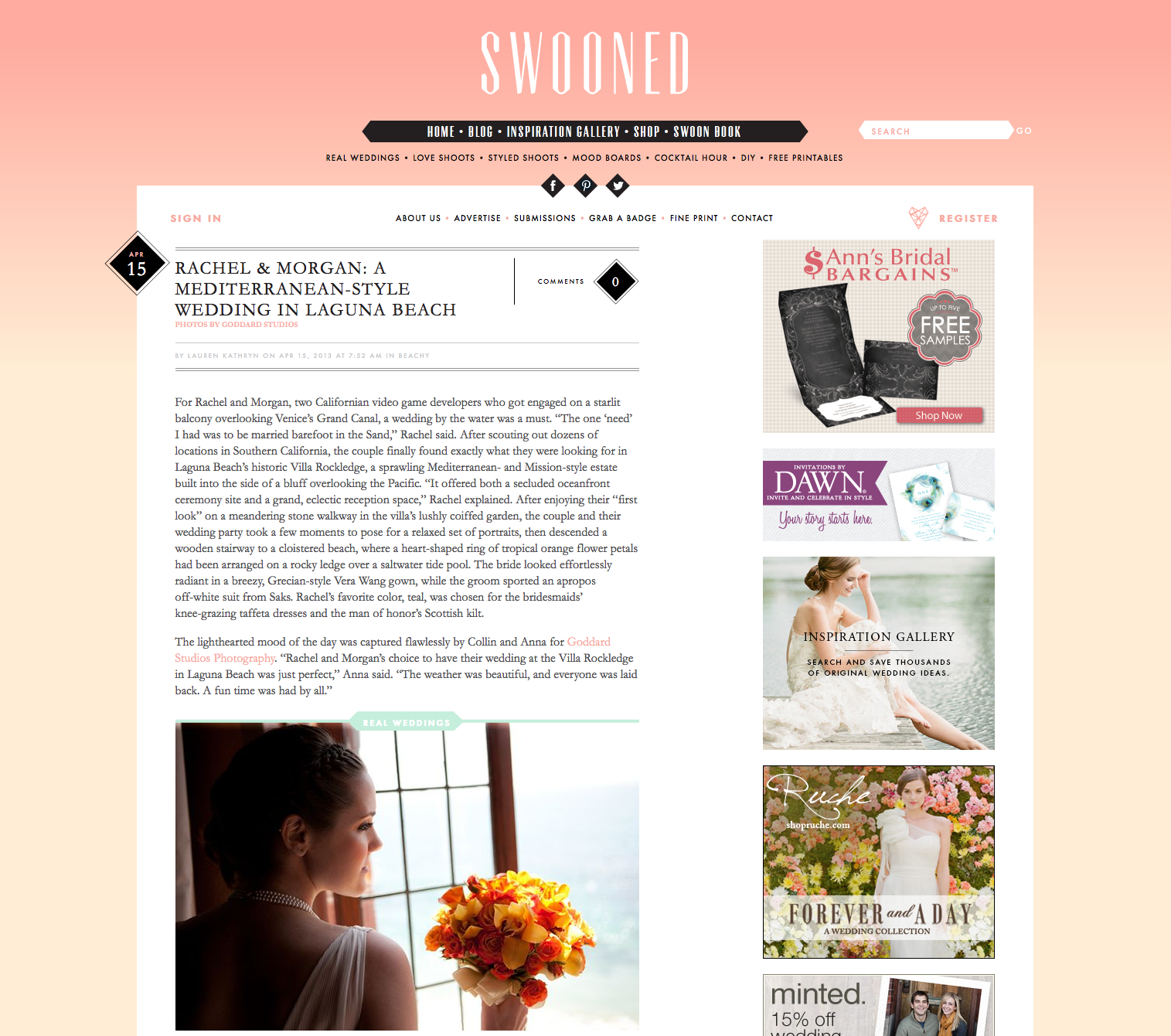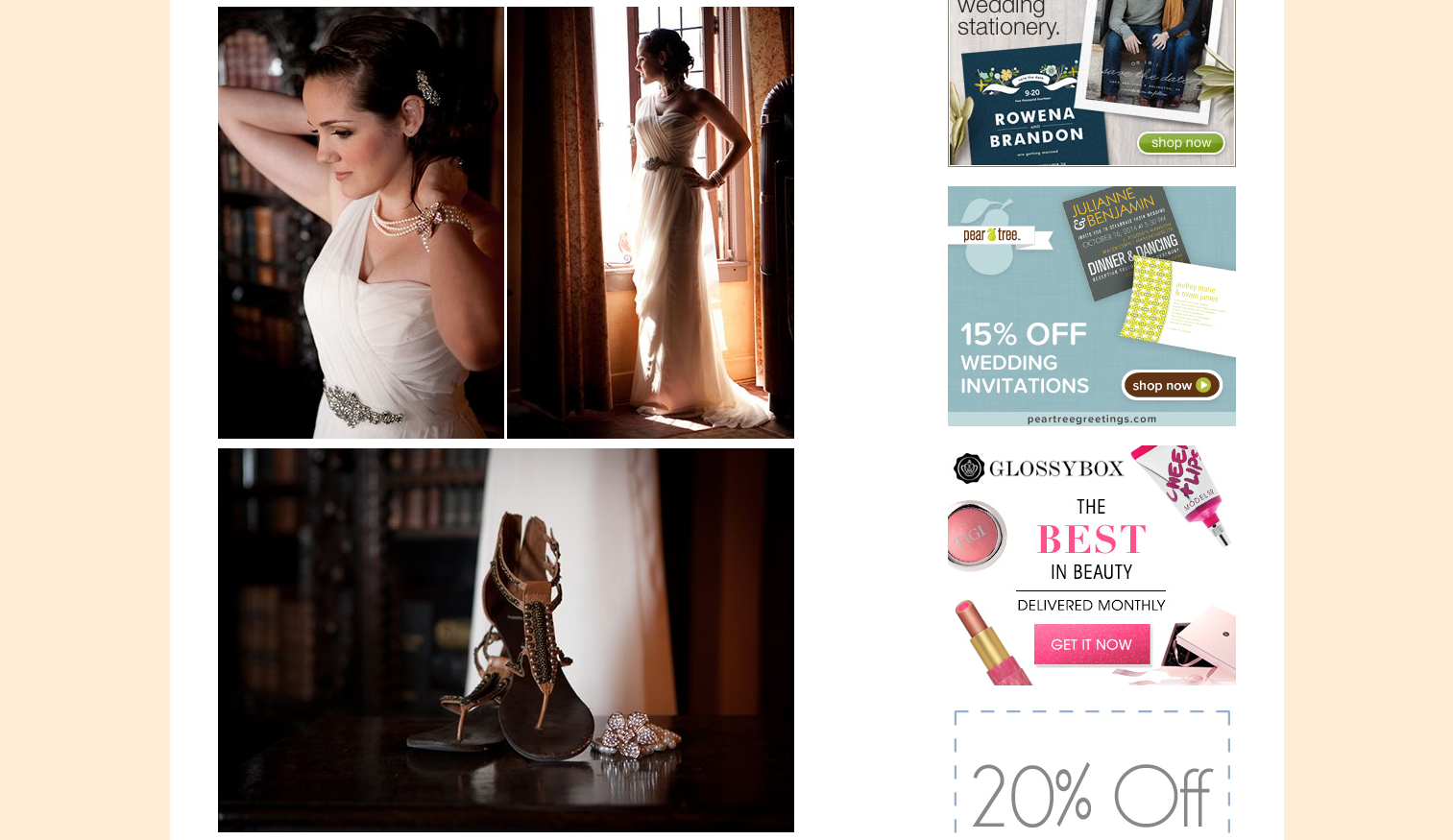 Q & A with Rachel
What's your love story?
We met through friends at work. We both love video games, goofing off, and just being dorks, so we hit it off right away. About a month into our courtship, Morgan decided to take me on a weekend date, but he wouldn't tell me where it was; he just said to bring a nice dress. We ended up at the airport and flew to San Francisco. Morgan had dinner planned and tickets for a night out at the ballet, which was perfect, because I used to be a ballet dancer. He picked up on all the little things about me right away. Morgan and I had been dating for two years when his family took us with them on a trip to Italy! We went all over the place—Rome, Lake Como, Tuscany. All throughout the trip, I was wondering if he was going to pop the question, but it never came. Not until the very last night in Venice, that is. We had a room with a balcony overlooking the Grand Canal, and he asked me there if I would marry him. I think my response was, "Really?!" That translated to yes.
Can you tell us a little bit about the details of your wedding?
The one "need" I had was to be married barefoot in the sand. We looked at more than 15 different locations across Southern California before we found Villa Rockledge in Laguna Beach. It offered both a secluded oceanfront ceremony site and a grand, eclectic reception space. I am obsessed with the color teal, so the color of the décor was fairly easy to figure out. We opted for aqua table linens, teal bridesmaid dresses, and orange flowers to make everything stand out. With beach weddings, I think there's a tendency to want to make everything "beachy," which we wanted to avoid. There were no seashells or nets or anything like that. We had a fun, eclectic mix of elements in a classy environment. We wanted the day to be fun rather than formal, so there were no seating assignments; everyone got to mingle with everyone else. The venue's owners let us put up family photos around the house. It was like pretending that the villa was our old family home for the day, which just felt great!
What kind of advice would you offer to future brides?
Hire a wedding planner! Planning a wedding is a daunting task on your own, and hiring someone who has done it countless times and has connections with caterers and florists is more valuable than I can say. Also, don't stress out. There is no need for it. When the day comes, it's all about having fun with your family and your new husband! Don't let the details spoil the day. It all goes by too quickly to worry about the little things. Let someone else worry about the little things for you.