Wedding Coordination in Orange County – Thank Yous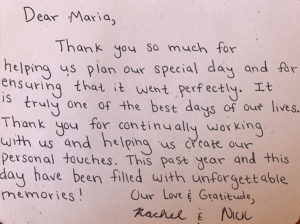 "Thank you so much helping us plan our special day and for ensuring that it went perfectly. It is truly one of the best days of our lives. Thank you for continually working with us and helping us create our personal touches. This past  year and this day have been filled with unforgettable memories!"
Our Love & Gratitude, Rachel and Nick
---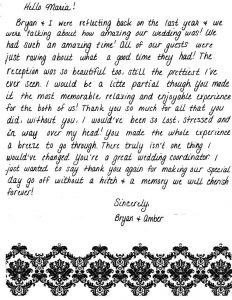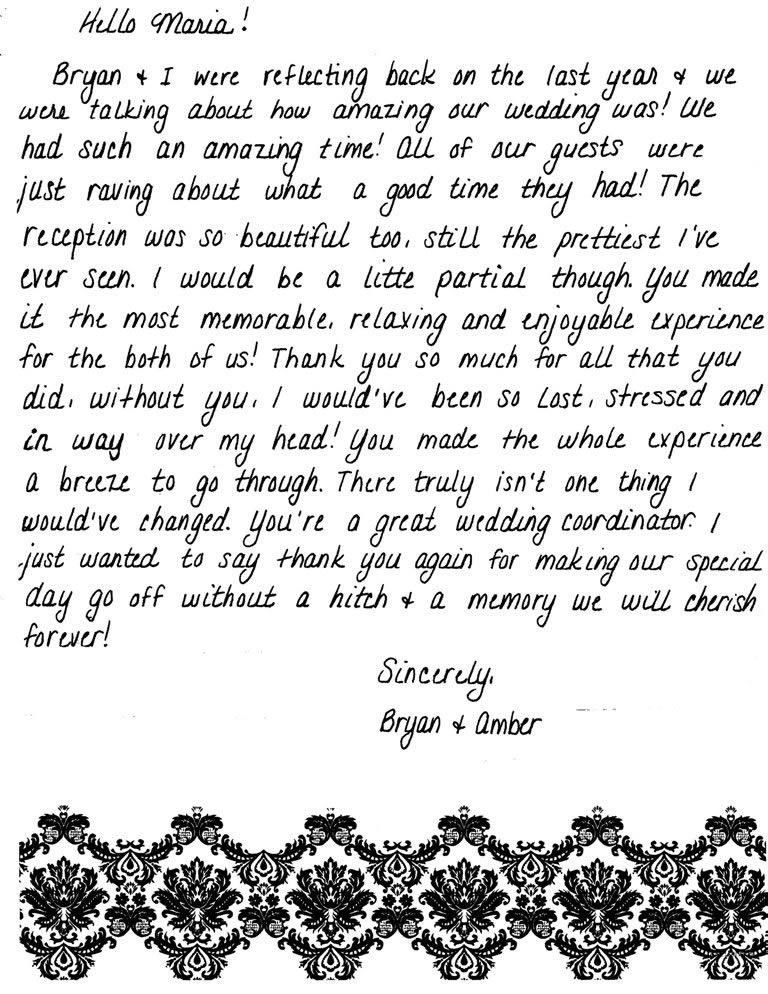 "Bryan and I are reflecting back on the last year and we were talking about how amazing our wedding was! We had such an amazing time! All of our guests were just raving about what a good time they had! The reception was so beautiful too, still the prettiest I've ever seen. I would be a little partial though. You made it the most memorable, relaxing and enjoyable experience for the both of us! Thank you so much for all that you did. Without you, I would've been so lost, stressed and in way over my head! You made the whole experience a breeze to go through. There truly isn't one thing I would have changed. You're a great wedding coordinator. I just wanted to say thank you again for making our special day go off without a hitch & a memory we will cherish forever! "
Sincerely, Bryan and Amber
---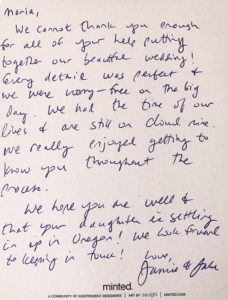 "We cannot thank you enough for all of your help putting together our beautiful wedding!  Every detail was perfect and we were worry-free on the big day.  We had the time of our lives and are still on cloud nine.  We really enjoyed getting to know you throughout the process.
We hope you are well and that your daughter is settling in up in Oregon! We look forward to keeping in touch!
Sincerely, Janice and Jake
---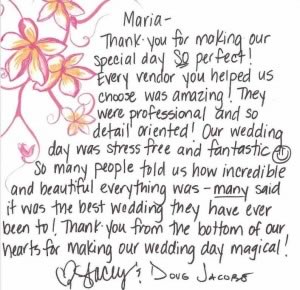 "Maria thank you for making our wedding day so perfect! Every vendor you helped us choose was amazing! They were professional and so detailed oriented! Our wedding day was stress free and fantastic. So many people told us how incredible and beautiful everything was – many said it was the best wedding they have ever been to! Thank you from the bottom of our hearts for making our wedding day magical!"
– Stacey & Doug Jacobe
---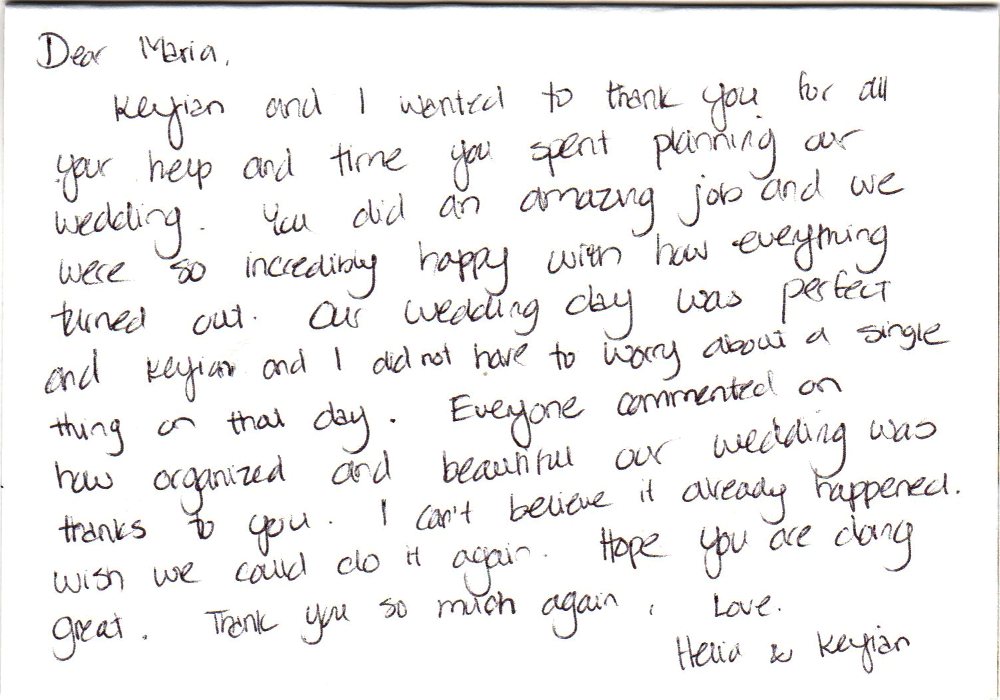 "Keyian and I wanted to thank you for all your help and time you spent planning our wedding. You did an amazing job and we were so incredibly happy with how everything turned out. Our wedding day was perfect and Keyian and I did not have to worry about a single thing on that day. Everyone commented on how organized and beautiful our wedding was thanks to you. I cant believe it already happened. Wish we could do it again. Hope you are doing great."
– Thank you so much again, Love Helia and Keyian
---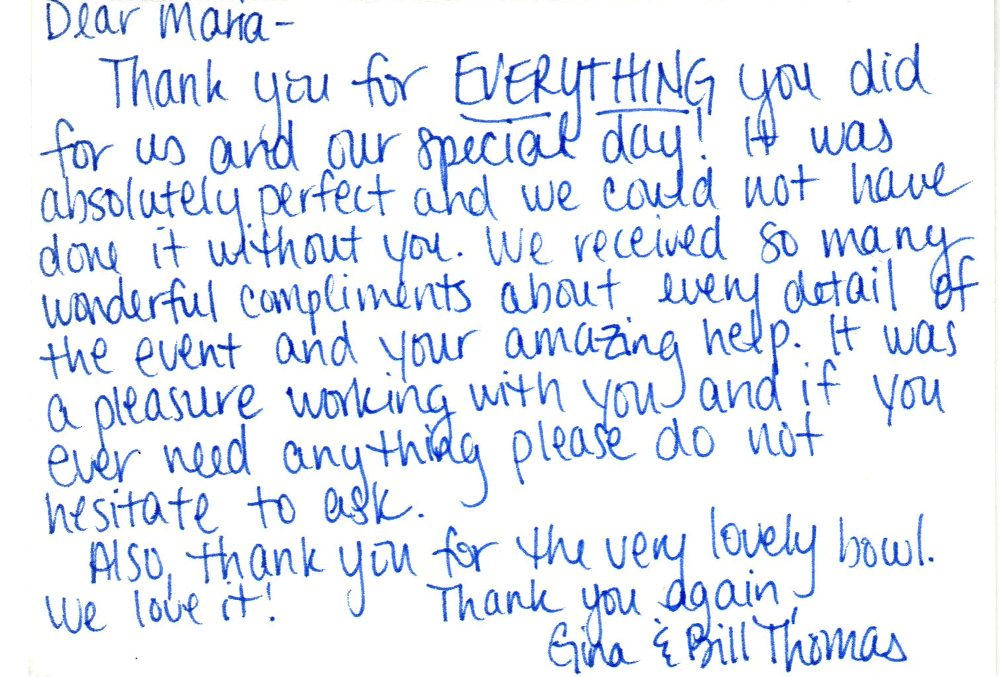 "Thank you for EVERYTHING you did for us and our special day! It was absolutely perfect and we could not have done it without you. We received so many wonderful compliments about every detail of the event and your amazing help. It was a pleasure working with you and if you ever need anything, please do not hesitate to ask. Also, thank you for the very lovely bowl. We love it!"
– Thank you again, Gina and Bill
---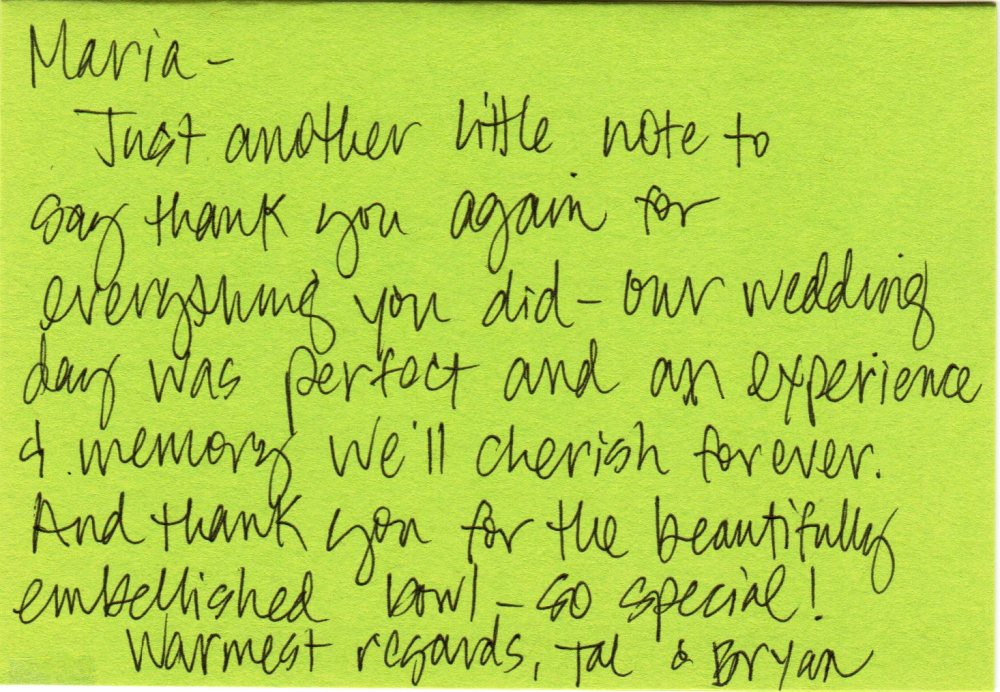 "Just a little note to say thank you again for everything that you did – our wedding day was perfect and an experience & memory we'll cherish forever. And thank you for the beautifully embellished bowl – so special!"
– Warmest regards, Tal & Bryan
---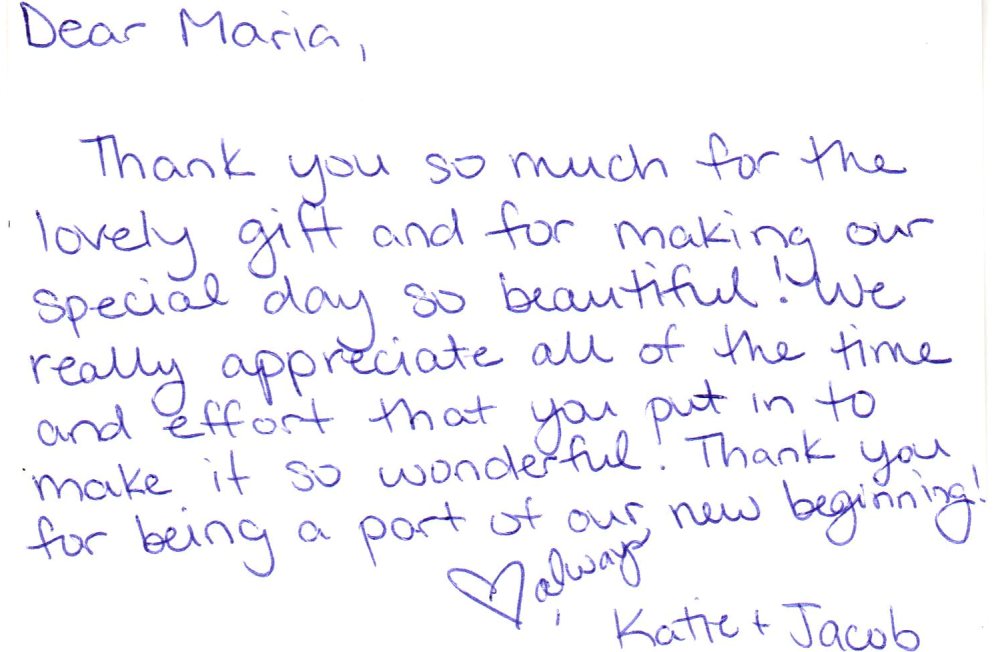 "Thank you so much for the lovely gift and for making our special day so beautiful! We really appreciate all of the time and effort that you put in to make it so wonderful. Thank you for being a part of our new beginning!"
– Always, Katie and Jacob
---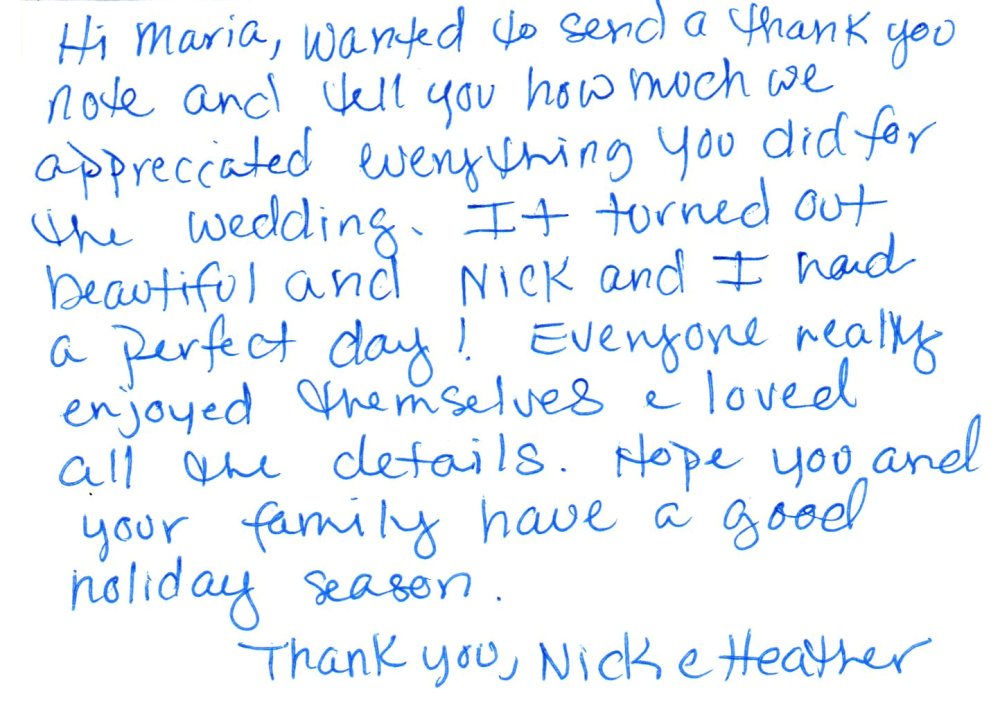 "Hi Maria, wanted to send you a thank you note and tell you how much we appreciated everything you did for the wedding. It turned out beautiful and Nick and I had a perfect day! Everyone really enjoyed themselves and loved all the details. Hop you and your family have a good holiday season."
– Thank you, Nick and Heather
---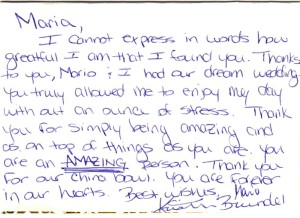 "I cannot express in words how grateful I am that I found you. Thanks to you, Mario and I had our dream wedding. You truly allowed me to enjoy my day without an ounce of stress. Thank you for simply being amazing and as on top of things as you are. You are an AMAZING person. Thank you for our china bowl. You are forever in our hearts."
– Best wishes, Mario and Kristin
---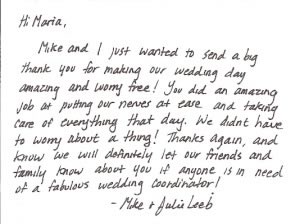 "Mike and I just wanted to send a big thank you for making our wedding day amazing and worry free!  You did an amazing job at putting our nerves at ease and taking care of everything that day.  We didn't have to worry about a thing!  Thanks again, and know we will definitely let our friends and family know about you if anyone is in need of a fabulous wedding coordinator!"
– Mike and Julie
---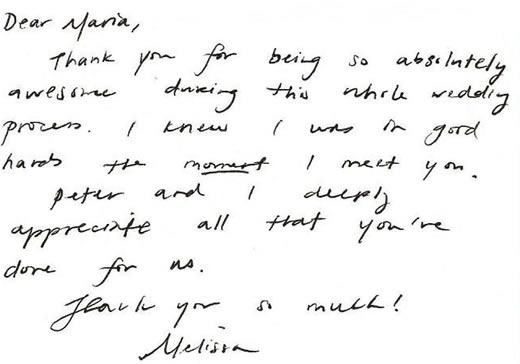 "Thank you for being so absolutely awesome during this whole wedding process.  I knew I was in good hands the moment I met you.  Peter and I deeply appreciate all that you've done for us.  Thank you so much!"
– Melissa
---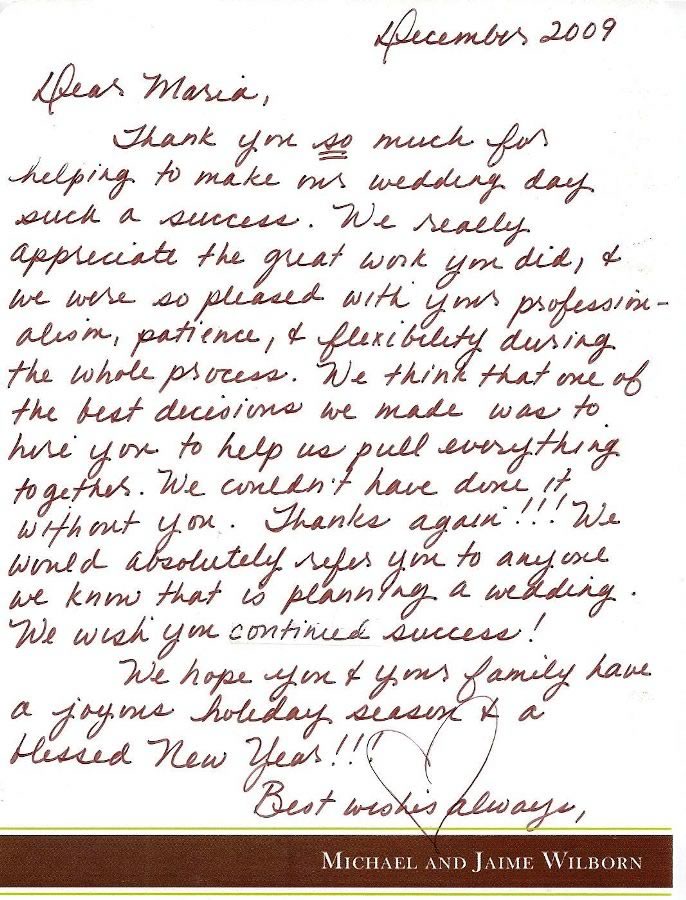 "Thank you so much for helping to make our wedding day such a success.  We really appreciate the great work you did, and we were so pleased with your professionalism, patience, and flexibility during the whole process.  We think that one of the best decisions we made was to hire you to help us pull everything together.  We couldn't have done it without you.  Thanks again!!! We would absolutely refer you to anyone we know that is planning a wedding.  We wish you continued success!"
– Michael and Jamie
---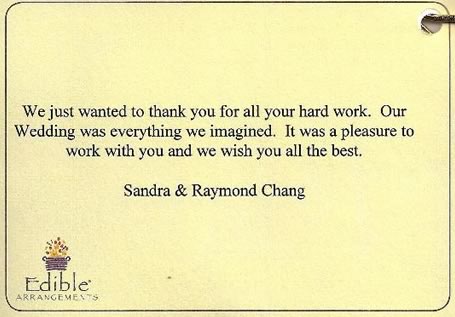 "We just wanted to thank you for all your hard work.  Our wedding was everything we imagined.  It was a pleasure to work with you and we wish you all the best."
– Sandra & Raymond Chang
---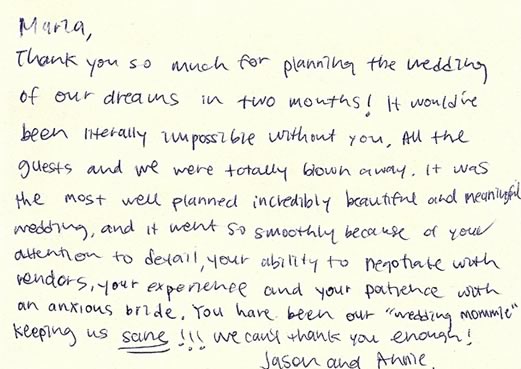 "Thank you so much for planning the wedding of our dreams in two months! It would've been literally impossible without you.  All the guests and we were totally blown away.  It was the most well-planned, incredibly beautiful and meaningful wedding. It went so smoothly because of your attention to detail, your ability to work with vendors, your experience and your patience with an anxious bride.  You have been our "wedding mommie," keeping us sane!!! We can't thank you enough!"
– Jason & Annie
---
"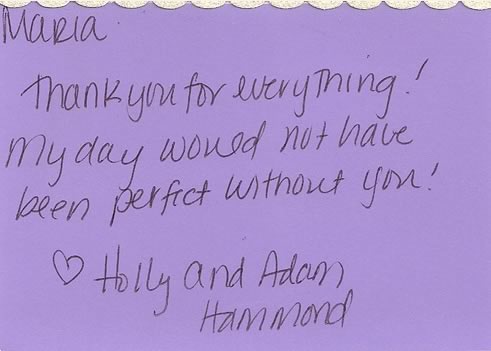 Thank you for everything! Our day would not have been perfect without you!"
– Holly & Adam
---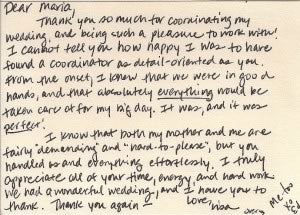 "Thank you so much for coordinating my wedding, and being such a pleasure to work with! I cannot tell you haow happy I was to have found a coordinator as detail-oriented as you.  From the onset, I knew that we were in good hands, and that absolutely everything would be taken care of for my big day.  It was, and it was perfect! I know that both my mother and me are fairly "demanding" and "hard-to-please," but you handled us and everything effortlessly.  I truly appreciate all of your time, energy, and hard work.  We had a wonderful wedding, and I have you to thank."
– Lisa & Ed
---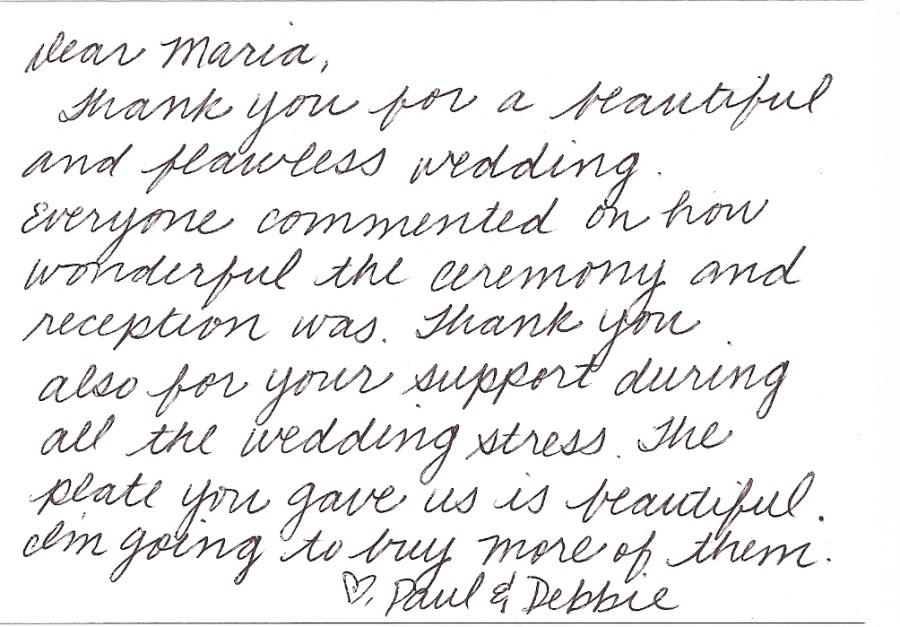 "Thank you for a beautiful and flawless wedding. Everyone commented on how wonderful the ceremony and reception was.  Thank you also for your support during all the wedding stress.  The plate you gave us is beautiful.  I'm going to buy more of them."
– Paul & Debbie
---
The most gratifying part of helping a couple plan their wedding is reading the letters of appreciation after thespecial day has come and gone. These notes of gratitude literally bring tears to my eyes. It is such a pleasure for me to help couple's and their families through such a special time in their lives. It's an even greater joy to understand through their writings that everything was perfect and exactly as they imagined & dreamed it would be. These letters are so rewarding and remind me constantly of why I chose wedding planning as a career.